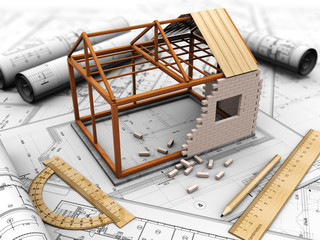 It would be foolish to design a home without first thinking through your needs. How much living space do you need? How many bedrooms?  What style do you like?
However, organizations are built each and every day without considering these types of fundamental questions around what the design is attempting to accomplish.
In order to create organizational structure, the key is start with design principles which are statements about what the design should provide.   It is critical that these design principles guide the entire design process since they focus us on creating an organization which accomplishes our objectives.
Below are ten organizational design principles from groups that I have consulted for:
Build depth of leadership capability
Be more agile via delivering faster
Create cost efficiency
Optimize people and system resources
Enable process efficiencies
Create best in class customer satisfaction
Foster better service delivery
Increase manager accountability
Enable collaboration between departments
Build internal change readiness
For example, I helped design a very different type of structure for the organization hoping to increase leadership skills versus the organization seeking to deliver products faster. In order to improve leadership, we crafted a structure that would challenge leadership to gain new skills, knowledge and abilities.  While at the organization looking to deliver products more quickly, we streamlined the structure resulting in more agility.  Clearly, depending on outcomes, the types of functions created, how they are organized and the roles and responsibilities within those functions are going to be very different.
Design principles are the foundation for trade-off decisions.  The design principles provide leadership with a tangible way to surface and discuss competing interests and outcomes.  Leaders are able to clearly state the improvements that they want to see as a result of the design.  This allows for a robust discussion across parties helping leadership gain consensus around the primary outcomes. [JayGalbraith.com, 2016]
I typically have leadership rank the importance of design principles since it allows them to evaluate the value of various design solutions.  I have found this to be the most effective and fastest way to determine which outcomes are most important to leadership.  We can then more easily determine whether an organizational design that is functional, divisional, strategic business unit, matrixed or project based will result in the best outcomes.
Jay Galbraith [JayGalbraith.com, 2016] makes a strong case for the importance of robust design principles.  He says that the criteria should be debated, rated, and kept prominent throughout the design process.  As a result, design principles are a topic in each and every conversation that I have with clients about the new design.  Clients find that as a result of this ongoing exploration of the principles, their understanding of what they are driving towards via the organizational design and how to get there becomes clear.
Questions:
Imagine that three years from now the Wall Street Journal [WSJ] names your organization the best in your field. What is the WSJ saying about you that makes you the best?  [This will provide you with clues as to your design principles.]
How can we best organize our work and people in order to accomplish our strategy?
Note: This blog reflects my thoughts and not the opinions of my employer.